Fundraising can be fun and empowering. Especially when you know how much it matters to the people your efforts will help.
To date, our fundraising volunteers have tackled all manner of challenges. They've not only helped raise cancer awareness. They've also restored hope to hundreds of cancer patients in Pakistan. And they had a great time doing it.
Download our Fun Challenges Pack, to pick from IKCA's top 12 challenges.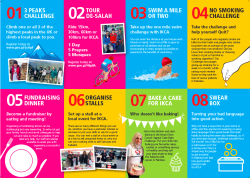 At Imran Khan Cancer Appeal (IKCA), we've seen fundraising activities across all walks of life. From bake sales to marathon runs, every one of them was invaluable to our fight against cancer. If you've got the motivation but need more inspiration, we've got you covered. Here are some more tried and tested fundraising ideas that are popular with our volunteers: