At Imran Khan Cancer Appeal (IKCA), all of our work on the ground happens through the Shaukat Khanum Memorial Cancer Hospital (SKMCH) in Lahore and Peshawar. At both, we offer comprehensive cancer care free of charge in hospitals which house all the specialised diagnostic and therapeutic facilities under a single roof.
We help save thousands of lives through free or subsidised medical care for cancer patients.

We carry out research in an effort to find new ways to prevent, diagnose, and treat cancer.

We educate healthcare professionals and raise public awareness of cancer, its signs, and its causes.
Shaukat Khanum Hospital was established in Lahore in 1994. As a comprehensive care facility dedicated to the diagnosis and treatment of cancer, it was a first in Pakistan. Since then, we've grown to expand our reach. To meet demand and support patients in harder to reach areas, we've established Diagnostics Centres, Laboratory Collection Centres, and Outreach Screening Clinics nationwide.
Did you know that SKMCH conducted the first ever bone marrow transplant in Lahore in 2006. The £14,000 procedure was carried out at no charge to the patient and was made possible through the generous support of an anonymous donor.
SKMCH was the first hospital in Pakistan to procure a PET CT scan in 2007. A Positron Emission Tomography (PET) and Computerised Tomography (CT) scan is an imaging technique. It helps provide information about the activity of cancer cells. Previously, patients in Pakistan had to go abroad to undergo this test.
At IKCA, we believe in providing cancer care for patients, irrespective of whether they can afford it or not. But free treatment shouldn't mean poor service. Part of our promise is to ensure our Hospital stays current with technological advances in the medical field. To this end, SKMCH is pioneering cancer research in Pakistan; keeping abreast of the latest breakthroughs in cancer treatment; and acquiring state-of-the-art medical equipment.
Support Shaukat Khanum Lahore
Support Shaukat Khanum Karachi
Support Shaukat Khanum Peshawar
---
We need your Sadaqah just as much as we need your Zakat.
Your Zakat allows us to provide free treatment to 75% of our patients at Shaukat Khanum, every year. But we cannot use it to purchase the medical equipment, medicine and build vital hospital wards needed to save lives. This is where your Sadaqah comes in. Find out about how we spend you Sadaqah.
Here are some other ways you can support Shaukat Khanum Hospital and the life saving work we do here.
Calculate and Give Your Zakat
Pay Your Kaffarah
Pay Your Fidyah
Give Sadaqah Online
Sponsor a cancer patient
---
Cancer Care at Shaukat Khanum Hospital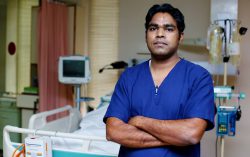 "Here, we tell patients whatever the reality of their case is. While being a critical care patient does not always mean the worst, we also never give fake hope." – ICU Nurse, Asif
Find out why ICU care demands a specialised kind of nursing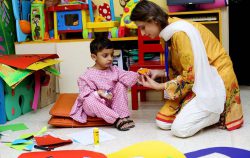 "The basic idea of play therapy is to keep children psychologically stable as they go through prolonged cancer treatment." – Play Therapist, Bushra
Find out why Play Therapy is Vital to Cancer Care
Support a patient with your Zakat
Feed a cancer patient