Sponsor a Child Patient at Shaukat Khanum Hospital. Give one child with cancer a chance at life.
Being diagnosed with cancer can seem like the end of the world to anyone. For a child in Pakistan, whose family lacks the means to afford treatment, it really can be. But in a Muslim society, where upholding our duty to the poor, the orphan and children in need forms a cornerstone of our faith, this shouldn't happen.
Last year at Shaukat Khanum Hospital, we were able to provide free cancer treatment to 75% of our patients through your donations. Many of them were children who were saved through sponsorship. 
Through sponsorship, our donors helped cover all the diagnostic and therapeutic hospital fees of their sponsored child patients. These ranged from the cost of radiation and chemotherapy services, to surgical theatre and medication fees. For a poor child facing cancer, this meant a real chance at survival. By sponsoring a child patient today, you will be covering the full or partial treatment of his/her treatment. You will be ensuring he/she receives the best cancer care available in Pakistan.
Sponsor a Child Patient
---
How Child Sponsorship Works
Your child's sponsorship depends on the cost of his/her treatment. The cost of treatment will vary from one patient to another. It will depend on the type of cancer a child patient has and the type of treatment required. Approximately, the cost of treatment can range from £3,440 (for a Germ Cell Tumour) to £13,328 (for Chronic Lymphocytic Leukaemia). The table below shows a breakdown of treatment costs according to cancer type. These are approximate.
 Average Sponsorship Costs for Different Types of Cancer
Disease
Germ Cell Tumour
Hodgkin's Lymphoma
Lung Cancer
Breast Cancer
Multiple Myeloma
 Ovarian Cancer
 Non Hodkin Lymphoma
Chronic Myeloid Leukemia
 Acute Lymphobiastic Leukemia
 Chronic Lymphocytic Leukemia
Diagnostic Services
Pathology
 £870
 £833
£400
£400
£200
£610
£2,000
£2,270
£4,630
£3,030
Radiology
£490
£500
£330
£200
£130
£330
£700
£110
£230
£153
Nuclear Medicine
£50
£500
£170
£170
–
£70
£430
–
£130
–
Therapeutic Services
Hospitalisation (Room Charges)
 £270
£100
£100
 £190
 £250
 £270
 £1,070
 £550
 £800
£753
Medical Services
 £280
£200
£120
£110
£1,170
£130
£730
£1,380
£770
£1,775
Radiation Services
 –
 £200
£1,080
£1,230
 –
 –
 –
 –
 –
 –
Surgical and Theatre Services
 £70
 £667
 £440
 £1,070
 £70
 £1,200
£300
£70
£430
£73
 Chemo bay Services
 £310
 £200
 £100
 £170
 £180
 £230
£370
 £180
 £710
 £211
 Pharmacy
 £1,100
 £833
 £1,920
 £1,800
 £3,330
 £2,570
£3,200
 £5,440
 £2,570
 £7,333
 Total
 £3,440
 £4,033
 £4660
 £5,340
 £5,330
 £5,410
£8,800 
£10,000 
£10,270
£13,328 
Sponsor a Child Patient
---
Sponsor a Child to Tackle Childhood Cancer
Did you know that 4,500 children and young people are diagnosed with cancer every year in the UK? That's ten children every day. Thanks to investment in research and treatment, survival has increased dramatically over the past 50 years and four out of five young cancer patients can be successfully treated.
Let's compare these numbers to Pakistan, where over 8,000 children are diagnosed with cancer every year!
That's double the amount. That's over 20 children a day! With no national health service, and 40% of the population living in poverty, the survival rates in Pakistan are much, much lower. Yet if our work demonstrates anything, it's that against all odds, Pakistan has a national spirit that refuses to accept that poor children and orphans simply do not get the same chance at life as children from more affluent backgrounds.
Out of the 8,000 children diagnosed with cancer in Pakistan every year, 12% do not survive. Child Sponsorship can help change these stats. Can you help?
Sponsor a Child Patient
---
How Your Child Sponsorship Helps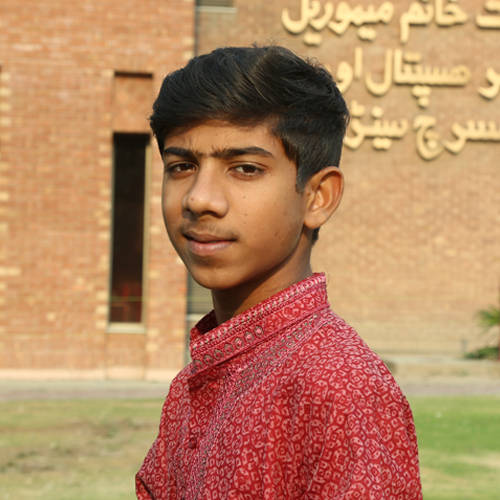 Waqar Ahmed is just one of many children who beat cancer at Shaukat Khanum Hospital. He is one of many children whose parents were faced with a devastation twofold when he was diagnosed: the potentially deadly disease their child was suffering from; and the reality that they couldn't afford the care their child needed.
With the grace of Allah Waqar was able to receive sponsorship for his treatment.
With the support of his sponsors and the will of Allah (swt) we were able to save Waqar. Read More to find out about his fight with cancer and the efforts of everyone involved in ensuring he received the best treatment available in Pakistan.
Sponsor a Child Patient
---
Sponsor a Child for Childhood Cancer Awareness Month

Every September, for Childhood Cancer Awareness month, we remember a boy with unbreakable spirit. One of Shaukat Khanum Hospital's many child patients, Huzaifa became the face of our Zakat campaign for Ramadan 2016. Two years later, despite all efforts, we lost him. But Huzaifa's story is so much more than that.
Read Huzaif's Story
We refuse to believe that all the efforts of Huzaif's family, friends and village, were in vain. Today, the loss of this child spurs us on to do better to save other children like him. That's why we need to act fast.
This Childhood Cancer Awareness month, please join the fight in memory of Huzaifa.
Sponsor a Child Patient