One day, Kayan Ali will build real houses inshallah
Out of all the grassy areas in Shaukhat Khaum Hospital's vast compound in Lahore, Kayan Ali has chosen a dirt patch to crouch over with his toys. According to his father, little Kayan is content with life as long as he has a plastic tractor and a lot of mud to play with.
Kayan and his father have travelled to Lahore from their village in Dera Ismail Khan. His mother and father, and two brothers live in a humble mud-brick house along with extended family. Kayan's father works in the fields of their village to earn a living. As a poor farmer, he's very proud that his four year-old boy has already learnt his numbers at school. He hopes Kayan will also learn his alphabet, but Kayan's education has been put on hold now because of cancer.
Without Shaukat Khanum Hospital, there was no way Kayan's father would have been able to afford the high cost of treatment for his son. When asked about the trouble of having to travel such a long distance to Lahore, he seems unbothered. He's only thankful that Kayan is receiving the care he needs, and is convinced it is the best care available in Pakistan.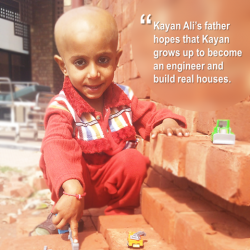 Filling his tractor with mud, Kayan moves it to his pretend construction site where he is building miniature mud houses. Kayan's father explains that this is what he loves to do most back at home. Hopeful about his son's future he says he's praying that Kayan grows up to become an engineer one day, to build real houses in Pakistan.
Kayan Ali's treatment would not be possible without the donors who continue to support IKCA and the Shaukat Khanum Hospitals across Pakistan. Please help us complete our construction of Shaukat Khnaum Hospital in Peshawar, which has so far offered a life-line to patients in the Khyber-Pakhtunkhawa province. When fully equipped and functional, it will save families like Kayan's from traveling to Lahore for cancer care.
Back to Latest News