Salma Nisar is helping Abu Huraira beat cancer
Salma lost her father to cancer. She'll never forget his last moments for as long as she lives. 'There are those memories you make during your life that become images and sounds embedded in your mind,' she writes about them. 'For me, that one flash of light was when I saw my dad toss side to side in pain during his last month of battling with Cancer, and with every move he said something that sounded like an oxymoron: Thank you God.'
'Eventually it was over, like it will be for all of us,' she writes, doubtless with some relief that death meant her father was no longer in pain. 'But to watch your loved ones suffer can be more traumatic for you than the ones suffering themselves.' 
While you are still breathing, Salma's father had told her, is every moment to be thankful for, and an opportunity to repent and do something worthwhile. Salma believes in his words with all of her heart. Just as she believes that no one can be saved from death when Allah (swt) wills it. The strength of her faith in her father's words, and this unchangeable reality is why she is now trying to help four year-old Abu Huraira battle Hodgkin's Lymphoma.
'It's not an opportunity to save a life, because no one can – but an opportunity to make a difference in someone's life,' Salma explains. 'It's an opportunity to create a world in which compassion for our fellow humans takes precedence.'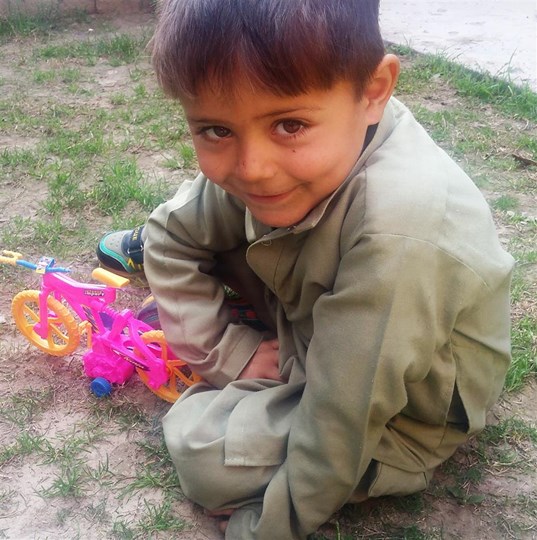 Salma has sponsored the treatment of Abu Huraira even though she can't afford it on her own. That's why she's set up a JustGiving page and is asking people to help her raise the money Abu Huraira needs to receive cancer care at Shaukat Khanum Hospital.
'Let's help this little human defeat cancer,' she appeals, 'so he can return to living a life every four year-old aspires to live, and grows up to fulfil his limitless potential as an individual.'
Potential is a thing Abu Huraira is bursting with. Even at age four, he already demonstrates a keen intelligence and a hunger to learn. 'I am told he is an inquisitive fellow,' Salma explains, 'who jumps at every opportunity to break toys open out of his curiosity to learn what's inside.'
Salma's target for Abu Huraira's treatment is $5000 –about £4000. Once she achieves it, she seems keen to support another patient. But first things first!
'Let's help raise a child who, when he grows up, believes in humanity and in helping each other with whatever unique blessing we have been endowed with,' Salma writes. 'Let's bring a smile and give relief to his family, who do not have the means to support him financially in this struggle and rely on you and me.'
You can support Salma's appeal for Abu Huraira's sponsorship by donating on her JustGiving site.
If you'd like to do what Salma is doing, and Sponsor a Patient like Abu Huraira, Get in Touch now. We'll do all we can to support your fundraising efforts.
Find out More about sponsoring a patient with IKCA.
Back to Latest News